"THE SKYSCRAPERS"INTERNATIONAL CAR CLUB

YOU'RE ON PAGE 2....OF THE CLUB MEMBERS PAGE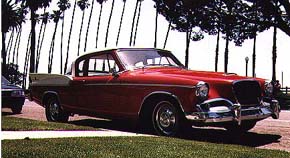 Big Jim Wolfe a great guy, a proud "SKYSCRAPER", and owner of one bad Studebaker Skylark...some pretty mean "FINZ"! Welcome Jim! (LA)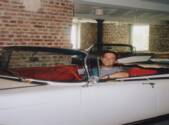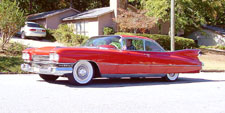 Ron Threadgill's "MISS SCARLET"..... she's Gorgeous!... Hey Ron....Welcome to The "SKYSCRAPERS" Car Club!!

classic cadillac custom chris sabatino doc sab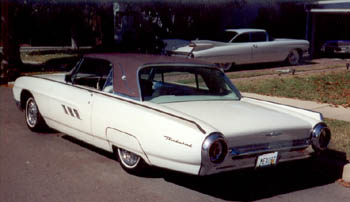 My Dads super rare... 1963, #19...Special Edition, "Principality of Monaco", Ford Thunderbird !! A pedigree car...with factory plaque and all ownership documentation!

Mike Southwell,President of  the Canadian Chapter, bought a pink 59 conv't. He purchased it on ebay..and had it restored by Doc Sab. IT"S AWESOME!!! Welcome to The "SKYSCRAPERS"!!!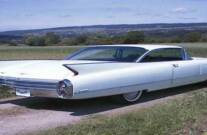 Peter Vrkljan, President of The Switzerland Chapter of The "SKYSCRAPERS" Car Club. Peter owns 3 fine Cadillacs. This one is a rare White with fully original Persian Sand interior! Welcome Peter!!!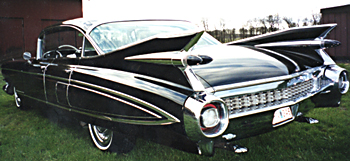 Mike Carlsson, President of the Swedish Chapter owns an awesome 1959 Fleetwood. Incredible auto!!! Welcome Mike!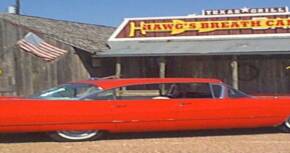 Matt Seevers, our Dallas Texas Chapter President and his BEAUTIFUL 1960 Sedan Deville...a great nostalgic photo! Welcome to The "SKYSCRAPERS" Car Club!!

Jannick Halben of Denmark...shows us his 1964 Eldorado...an awesome Cadillac! Welcome to the Club Jannick!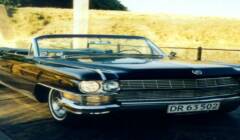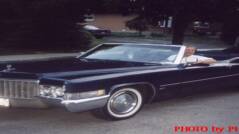 William McKee, a Canadian...and his gorgeous 1970 Deville...the last year Deville Convertible...Welcome to The "SKYSCRAPERS".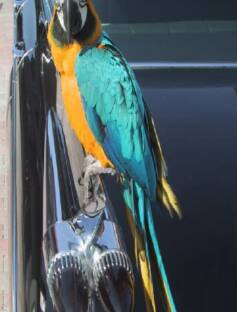 President Mike Carlsson sends us a photo of the previous owner of his exquisite 59 Cadillac Fleetwood...and by the way...his name is Buddah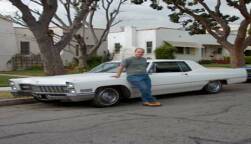 Greg Schmidt, of Los Angeles...was given an original  1967 Calais...it needs a few things...but it's all original...WELCOME to The "SKYSCRAPERS"!!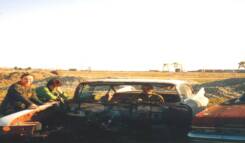 Our friend in Romania...Cristian Dumitrescu...has a 59 Cadillac...and it's his dream car...nothing goes to waste in that country...and times are hard there...so if anyone has any extra parts that he can use...email him....and send him some! c.dumittresu@go.ro Welcome to The "SKYSCRAPERS"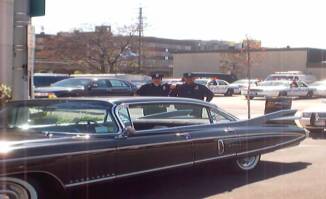 Welcome to The "SKYSCRAPERS" Everett Mojica and your gorgeous 59 Fleetwood.... Everett is a NY Constable with a long time mutual friend, Fellow Officer Jeff Stark. Welcome MO! (Mo is on the right)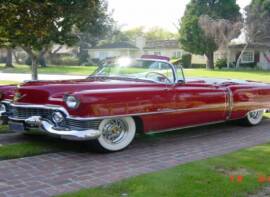 Welcome Jim Stokes...to The "SKYSCRAPERS" Car Club. Jim purchased this awesome 54 Cad from me...and has already won 7 first place trophies....Way to go Jim!!!!


Canada's Dave Roughsedge, of Vancouver and his 1959 Cad.  He has a collection.He is the Vancouver Chapter President. Welcome...and Dave...get in touch with your Canadian Prez..Mike Southwell!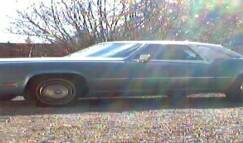 Welcome Greg Brauer! You're a member of the"SKYSCRAPERS" with your gorgeous Eldorado  Del Caballero!!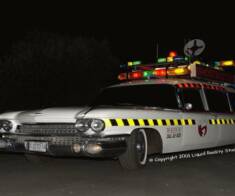 Dean from Arizona is a MAD MAN with four '59 Cadillacs...and this Ghostbuster replica s one of his beautiful babies!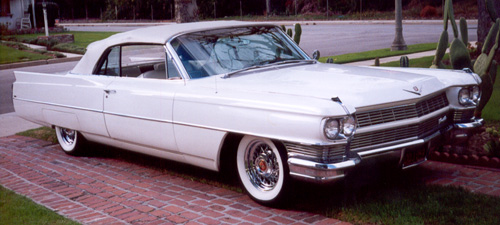 Mike Kline is a proud "SKYSCRAPER"member...in a Car he bought from Doc Sab...Years of good luck with the car...it was MY baby. Welcome to the club!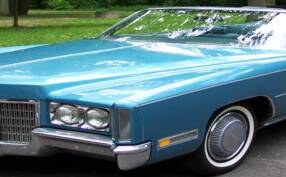 Welcome Thore Kibsgaard of Norway! That is one SWEET 1971!!  Thore Purchased this cream puff recently...and sod his 70 Deville!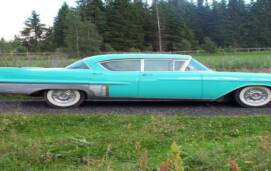 Dennis Nielsen of Norway's gorgeous 1957 Fleetwood...It's amazing how many Cadillacs have escaped to other countries...It's also amazing that there are so many Cadillac Fans! Welcome Dennis!!!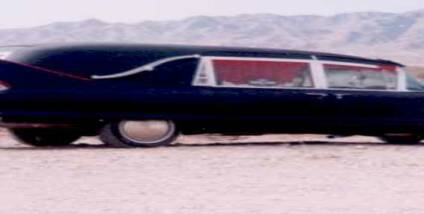 Todd (SKULL) Harter of Arizona....and the winner of the highest fins in The "SKYSCRAPERS" Car Club. MAN....Those babies are 59 inches tall...that's 17 inches higher than a stock 1959 Cadillac!!!! Welcome Champ!!!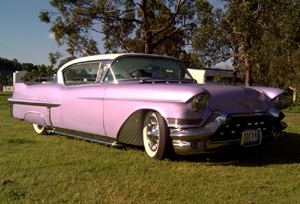 Glen John's 57 Sledillac!!! An awesome Custom Caddy from "Outback"....Welcome to The "SKYSCRAPERS".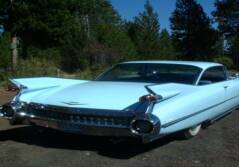 Jim Reeser from Maui and his BAD ASS 59!